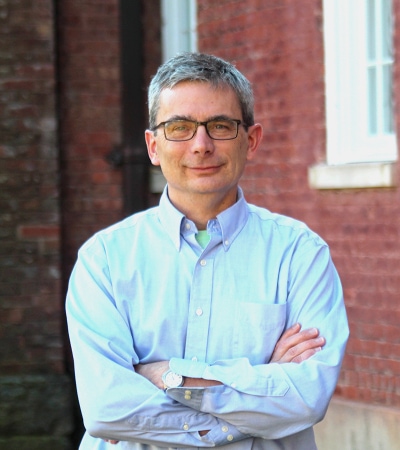 Will Garrison
Church Administrator & Sexton
Phone: (413) 298-3137 x10
Email: email hidden; JavaScript is required
General Hours: M-F, 9AM – 1PM
Will Garrison serves two critical roles at our church. As Administrator he juggles bulletin and newsletter production, bill payments, scheduling, and the other behind-the-scenes tasks necessary to keep a busy church running smoothly. He also fields phone calls and e-mails from everyone from veteran volunteers to out-of-towners with questions about the church. As our Sexton, Will oversees a range of building maintenance tasks, event logistics, and countless details that you might never notice but always appreciate.
Will has worked in the non-profit world for over thirty years, starting off as a humble clerk at the United Nations Children's Fund (UNICEF).  Then, after graduate studies in Cooperstown, NY, he embarked on a career working at history museums. At the Saratoga County Historical Society (NY), he was Curator (and, after losing a coin toss, Dr. Bearly Hurts at a Teddy Bear Picnic). Then, after eight years at Historic Deerfield, Will worked for The Trustees of Reservations, just a short distance from the church on Main Street in Stockbridge. At The Trustees, Will was the Historic Resources Manager for the Berkshire Region, privileged to care for Naumkeag and The Mission House. Just prior to joining the team at First Congregational Church, Will was Curator and Executive Director of the Berkshire County Historical Society at Herman Melville's Arrowhead. This job prompted Will to finally read Moby Dick, which he can now recommend to others.
Will lives in Pittsfield with his wife, Cindy Dickinson, and their two daughters, Lucy and Rose. Cindy is the Director of Education at Hancock Shaker Village. The other title Will wears proudly is "Dance Dad," supporting Lucy and Rose as they explore the world of ballet, Irish, tap, jazz, and modern dance. The family attends South Congregational Church in Pittsfield, where Will serves as a Trustee.