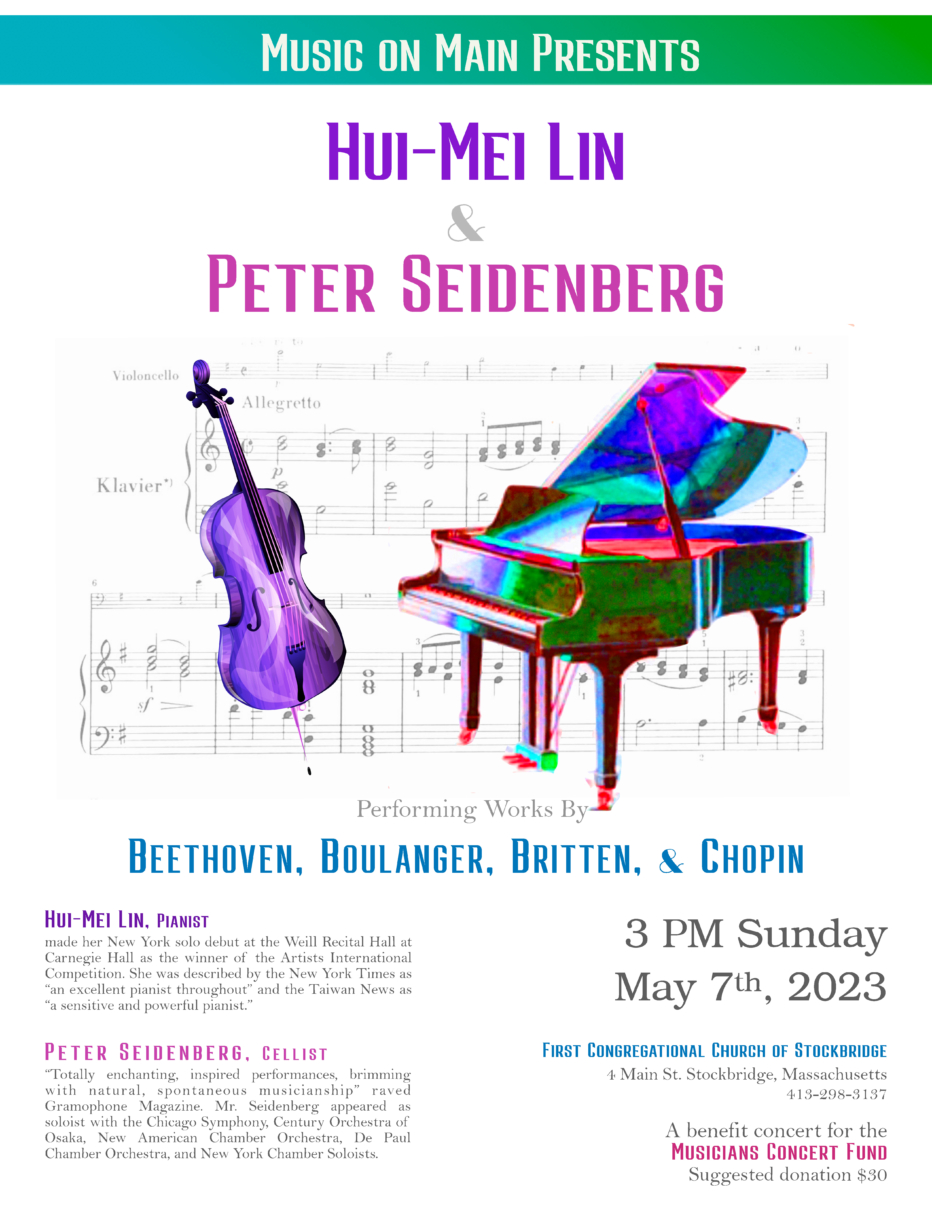 Music on Main Presents
Date:

Sunday, May 7

,

2023

Time:

3:00pm

–

5:00pm

Location:

Sanctuary
The Board of Music of the First Congregational Church UCC in Stockbridge announces the resumption of its Music on Main concert series with a chamber music concert on May 7 2023 at 3 pm. The concert features cellist Peter Seidenberg and pianist Hui Mei-Lin, performing music of Beethoven, Boulanger, Chopin and Britten.
Peter Seidenberg made his solo debut with the Chicago Symphony, and has since appeared as soloist with many orchestras including Century Orchestra of Osaka, New American Chamber Orchestra, De Paul Chamber Orchestra, New York Chamber Soloists, and the Eastman-Rochester Philharmonic. He was also a founding member of the critically acclaimed Elements Quartet which created groundbreaking commissioning projects involving over 30 composers.
Hui-Mei Lin made her New York solo debut at the Weill Recital Hall at the Carnegie Hall as the winner of the Artists International Competition. She was described by the New York Times as "an excellent pianist throughout." Concert tours have taken her to Italy, France, Canada, and various cities in Taiwan.  As a chamber musician, she has performed with cellist Carter Brey, flutist Robert Stallman, and soprano Berenice Bramson at the Weill Recital Hall, with the New Hungarian Quartet at the Taos Chamber Music Festival, and with the Cassatt String Quartet. Hui-Mei Lin and Peter Seidenberg have been musical partners for over 20 years and have toured throughout the U.S. and Taiwan.
The concert will take place Saturday May 7 at 3 pm at the First Congregational Church, 4 Main Street in Stockbridge. The suggested donation is $30 at the door. The concert will benefit the Musician's Concert Fund at the church, which will subsidize and support future concerts in the Music on Main series and allow those future concerts to donate their proceeds to local charities.  For further information, please call the church office at 413 298 3137.